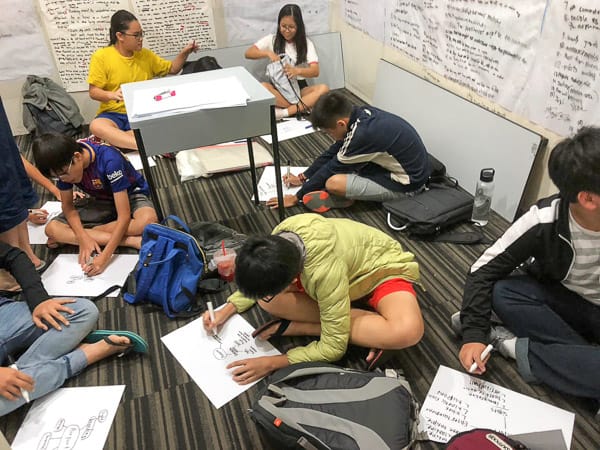 English Mastery™ S2
English Mastery™ for Secondary 2 strengthens students' foundation in our English tuition classes. They experience varied practices in two key areas:
Writing and representing (Writing)

Reading and representing (Comprehension).
Your child will be exposed to a large variety of text types for comprehension and more variations of continuous writing topics. These practices will prepare our students for the assessment demands as he or she advances to upper secondary. During these weekly 2-hour lessons, your child will learn to: 
Internalise key skills and strategies needed for the English Language assessment.
Rework his or her own continuous writing for improvements using P.E.E.L.
Use concept maps and in-class discussions for ideation purposes as a pre-writing.
Handle varied situational writing questions and pick up structure and strategies to handle them well.
Maths Mastery™ S2
Your child has now graduated from newly-minted Secondary Maths newbies to an experienced novice. He or she is more than likely to have done pretty well. If that is not the case, we need to mindful of the increased rigour of Secondary 2 Maths.
What makes it tough for most Secondary 2 is the lacking of a strong Secondary 1 foundation. Our Secondary 2 course is not only about tearing apart the barriers to achieving a mastery in S2 contents, it is also ensuring a sustained strong Secondary 1 foundation.
Secondary 2 is such an important milestone as it determines if your child is able to subscribe to certain subject combinations, particularly Additional Maths in Secondary 3. Without Additional Maths, certain courses in your child's subsequent academic pursuit may be precluded.
Your child will be proficient in:
All the topics in Secondary 1 and their expansions; and
• Pythagoras' theorem and basic trigonometry
Science Mastery™ S2
AKLC Secondary Science comprises three elements, Biology, Chemistry and Physics.
Ever made such a comment whereby your child is not learning what he/ she is learning in school? AKLC knows your concern and hereby provides a solution to suit your child's needs. We adjust our curriculum to suit the class' portfolio. We only teach the key points and we spot popular questions to ensure that all our students are well-prepared for their exams as students' improvement and results hold great values to us.
In addition, your child is able to appreciate Science through our educational tours and games planned by our trainers to allow your child to understand Science concepts through memorable experiences.      
Not a concern if your child is learning different themes in school as we will teach what is relevant to them, they will be assessed on relevant assessment and mock papers.
Content Mastery 
Introduction to General Science Topics such as Laboratory Safety and Apparatus.

Learn in depth Scientific concepts from Biology such as cells, movement of substances and transport systems in plants.  

Learn in depth Scientific concepts from Chemistry such as Elements, Compounds, Suspensions and Mixtures, Separation Techniques

Learn in depth Scientific concepts from Physics such as Physical Quantities, Mass, Weight, Density and Work Done.
 Your child will be able to
Have greater exposure to more critical thinking questions which are commonly found in exams. (Spot on questions)
Learn essential techniques to excel in essays
Acquire analysis skills to interpret information and graphs appropriately

Learn how experiments are conducted and experiments procedures are recorded

Communicate and present their findings in terms of scientific biological drawings and in greater detail and more precision.